The Fully Funded La Trobe University Graduate Research Scholarship accepts applications from all students who want to pursue a Ph.D. degree in Australia. The purpose of this funding opportunity is to support deserving candidates who want to pursue a Ph.D. degree at the university for the academic session 2023/2024. They encourage Ukrainian citizens who have been displaced by the conflict and who hold an Australian visa to apply for a project scholarship.
La Trobe University is a public research university in Melbourne that is ranked among the top 400 universities in the world. It is recognized as one of Australia's leading green campuses and is a proud member of the Innovative Research Universities group. La Trobe University provides a wide array of undergraduate and postgraduate programs spanning its two colleges: Arts, Social Science, and Commerce (ASSC), as well as Science, Health, and Engineering.
La Trobe University offers numerous advantages. Its renowned faculty, diverse range of academic programs, and commitment to research excellence create an enriching educational environment. Additionally, the campus's vibrant atmosphere, coupled with extensive support services, fosters personal and professional growth.
Fully Funded La Trobe University Graduate Research Scholarship 2024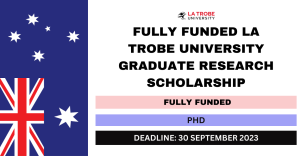 DEADLINE
30 September 2023
STUDY IN
Australia
PROVIDER
La Trobe University
STUDY LEVEL
PhD
SUBJECTS
Subjects offered by the university
FUNDING TYPE
Fully Funded Scholarships
Scholarship Eligibility
The eligibility criteria for the Fully Funded La Trobe University Graduate Research Scholarship are stated below:
1. Eligible Countries: Students from Australia or New Zealand and International applicants.
2. Eligible Course or Subjects: Doctor of Philosophy
3. Eligibility Criteria: To be eligible, the applicants must meet all the following criteria:
4. Will be enrolled full-time and undertaking their research at a La Trobe University campus
5. Have completed a Master by Research or other significant body of research, such as an honors research thesis or lead authorship of a peer-reviewed publication, assessed at a La Trobe Masters by research standard of 75 or above.
Scholarship Benefits
The Fully Funded La Trobe University Graduate Research Scholarship will award $33500 to successful candidates in Australia for the academic year 2023/2024.
1. A stipend for up to three and a half (3.5) years for doctoral candidature, with a value of $33,500 per annum (2023 rate)
2. A tuition fee scholarship for up to four (4) years for doctoral candidature. Successful domestic applicants will be awarded an RTP Fees Offset scholarship, and successful international applicants will be awarded a La Trobe Full Fee Research Scholarship (LTUFFRS) unless another tuition support scholarship exists
3. Relocation allowance and publication/thesis allowance
4. Opportunities to work with La Trobe's outstanding researchers and have access to our suite of professional development programs.
Others
How to Apply:
1. Domestic applicants apply By email at [email protected], and International applications can be lodged via the International Online Application System. After you access the online system and enter and submit your details, you'll receive an email with your username and password to log into the Student Portal and start your online application. You must scan and upload all required documentation before your application can be considered and Complete the Research Statement Form.
2. Supporting Documents: Submit the following:
3. University academic transcripts and completion certificates (originals or certified copies)
4. Your professional CV (resume) outlining relevant work experience, academic awards, prior research background, etc.
5. Details of any publications
6. A copy of your Master's thesis (with at least two chapters translated into English if it is not written in English)
7. A preliminary research proposal of no more than 300 words
8. Any other documentation stipulated in the scholarship advertisement for advertised scholarships or projects.
9. Birth or citizenship certificate (original or certified copy, for domestic applicants only).
10. If you hold a current passport or an Australian visa, you must include a copy with your application.
11. Admission Requirements: Applicants must meet the university's entry requirements.
12. Language Requirement:  Students must have minimum language requirements for undergraduate, postgraduate, and graduate research study at La Trobe. However, some La Trobe courses need a higher English language proficiency than these minimum scores.
I hope you find this article helpful.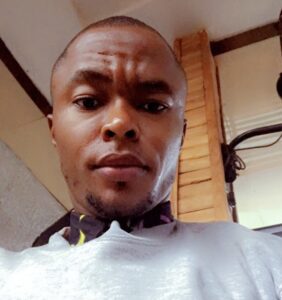 Based in Nigeria's Enugu, I'm a student crafting captivating tales as a writer and igniting sparks as a Motivational Speaker.