If one harbors an invincible drive, exhibits remarkable confidence, and possesses an unyielding enthusiasm for the banking sector, Access Bank Plc offers a golden pathway to realize these aspirations. The bank cordially invites such individuals to apply for its Entry Level Trainee Programs (ELTP – GRAD and ELTP RETAIL) for 2023. As a premier financial institution on a mission to set industry benchmarks, Access Bank is committed to fostering an inclusive environment. It champions diversity and gender equity, extending its call to qualified females and differently-abled individuals.
Access Bank Plc Entry Level Trainee Program 2023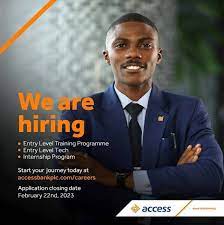 | | |
| --- | --- |
| 🏦 Institution | Access Bank Plc offers Entry Level Trainee Programs in different divisions. |
| 🎓 Eligibility | Candidates should be under 26–28 years and hold at least a second-class upper degree. |
| 💼 Divisions | Programs in Enterprise Resource Group, Corporate and Investment Banking, and Commercial Banking. |
| 🛒 Retail | Retail programs are in sales, products, and retail operations. |
| 👫 Diversity | Equal opportunity employer with a focus on gender and diversity. |
| 📜 NYSC | Completion of NYSC is mandatory. |
| ⚠️ Warning | Duplicate and false information will lead to disqualification. |
| 🗓️ Deadline | Application closes on 15th September 2023. |
Comprehensive Training: Where Mastery Takes Root
The journey at Access Bank commences with an exhaustive training regimen conducted at the esteemed School of Banking Excellence. This phase serves as an extraordinary opportunity for trainees to assimilate knowledge alongside their highly proficient peers.
Unwavering Commitment to Equality and Diversity
Access Bank stands as an equal opportunity employer, where recruitment decisions emanate from an intense and impartial evaluation. This assessment focuses on an amalgam of business exigencies, job-specific criteria, and individual qualifications. Therefore, it is not only cognisant of gender balance but also proactively encourages applications from those with physical disabilities.
Decoding the Application: ELTP Grad and ELTP Retail
ELTP Grad: A Closer Examination of Requirements
Age Limitation: Candidates must not exceed the age of 26 years at the time of application. For those holding MSc or LLB degrees, the upper age limit is 28 years.
Educational Mandates: A minimum academic qualification of a second-class upper degree (2:1) from an accredited university is non-negotiable.
Additional Provisions: Completion of the National Youth Service Corps (NYSC) is a requisite.
Divisional Opportunities: This stream offers placements in the Enterprise Resource Group (ERG), Corporate and Investment Banking Division (CIBD), and Commercial Banking Division (CBD).
ELTP Retail: Shedding Light on Prerequisites
Age Parameters: Similar to the ELTP Grad, candidates should not be above 26 years old. For MSc or LLB holders, the maximum permissible age is 28.
Academic Benchmarks: Candidates must possess at least a second-class upper (2:2) degree from a recognized university.
NYSC Obligations: A completed NYSC program is mandatory.
Functional Areas: This pathway caters to Retail Sales, Products, and Retail Operations.
Mastering the Application Process: Your Blueprint
Online Submission: Qualified candidates should apply online. All applications must be exclusive and online.
Avoid Duplication: Any form of replicated submissions will nullify the application.
Accuracy and Honesty: Ensure all provided information is accurate and truthful, as discrepancies will lead to automatic disqualification.
Vital Notices for Applicants
The application is free of charge.
Access Bank does not employ agents for application assistance.
The application window culminates on Friday, 15th September 2023.
Only candidates who successfully clear each stage will be contacted for further procedures. For more in-depth information, visit the official Access Bank career page.
In summary, Access Bank Plc's Entry Level Trainee Programs for 2023 offer an unmatched opportunity to initiate a prosperous career in the banking sector. The bank seeks to empower individuals who align with its organizational values and possess the required qualifications. If you find yourself resonating with these standards, don't hesitate to apply. Time is running out, and your future in banking beckons.
I hope you find this article helpful.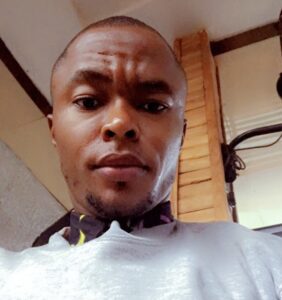 Based in Nigeria's Enugu, I'm a student crafting captivating tales as a writer and igniting sparks as a Motivational Speaker.