The Fully Funded Chevening Gurukul Fellowship in the UK is accepting applications from Indians. It aims to attract young high-flyers and mid-career professionals. You can apply for this wonderful opportunity with a post-graduation degree or equivalent professional training or working experience. People with strong leadership skills are encouraged to apply for this international fellowship. You will be able to address the multiple issues the leaders confront in the various fields. Moreover, you will be allowed to explore changing ideas and advanced practices of leadership that are required in the world of globalization.
The Chevening fellowships aim to help you contribute your part to the development of India by enriching your relevant academic knowledge. Moreover, the UK institute believes India is in a crucial position to drive an effective and legitimate institutional order by meeting the emerging global challenges through this leadership development program. The key aspects of the program include policy relevance, academic understanding, and personal development. You will be able to understand the emerging opportunities and challenges of global integration and transform your knowledge into policy and practices through your leading capabilities.
The Chevening Gurukul Fellowship for Leadership and Excellence intends to familiarize you with the current pressing issues and themes that may influence global leadership. The key aspects to be catered under this program are the trade regulations in the economics of global integration, the role of science and technology, international governance, trade agreements with different nations and organizations, socio-cultural challenges, personal development, and leadership skills. Further, the course will include numerous visits to the UK and Europe based on the research and development of a public policy plan.
It is designed to provide individuals with the chance to bring forth innovative ideas that can produce positive change in society. This fellowship is funded by the Foreign Commonwealth and Development Office and its partner organizations. The fellows will get the opportunity to acquire UK educational qualifications. All they see is the potential of young minds to demonstrate an ability to inspire, inform, and influence progressive change globally. By diversifying field experience, you can learn and implement your ideas in various sectors to ensure worldwide development.
Fully Funded Chevening Gurukul Fellowship In UK 2024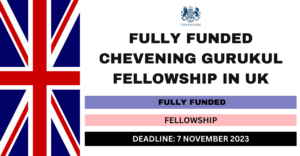 DEADLINE
7 November 2023
STUDY IN
United Kingdom
PROVIDER
Chevening
STUDY LEVEL
Fellowship
SUBJECTS
Subjects offered by the university
FUNDING TYPE
Fully Funded Scholarships
Scholarship Benefits
The benefits of the Fully Funded Chevening Gurukul Fellowship in the UK are:
1. Program fees will be covered under the fellowship.
2. Living expenses will be covered.
3. Return air ticket in economy class from India to the UK.
Others
How to Apply
1. Students have to go to the Chevening website.
2. Must register yourself first.
3. After verification via email, log into your account.
4. Fill up the required fields.
5. Provide all the supporting documents, if required.
6. Complete the application form carefully and submit it.
I hope you find this article helpful.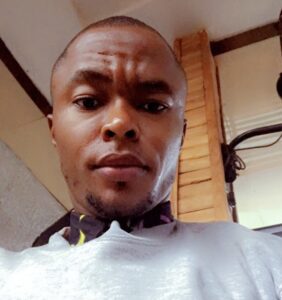 Based in Nigeria's Enugu, I'm a student crafting captivating tales as a writer and igniting sparks as a Motivational Speaker.