Ofada sauce recipe helps make the stew for ofada rice. I must confess that the demand for this recipe in the last few months is over the roof.
So many people wanted to learn how to make ofada sauce/stew. The yorubas call it ayamase.
This recipe plus the video at the bottom of this page shows you exactly how to make ofada rice sauce. I suppose you know how to boil rice. 😉 That would be discussed briefly at the bottom of this post.
For long I wondered why people were so crazy about ofada rice and stew. Perhaps it was just the iru (locust beans) that makes the difference or the fact that it is made with just peppers and the probability of ending up with soured taste (as in the case of tomato stew) is close to zero.
One lady in particularly sent me this message "pls teach me how to make ofada sauce/stew before this restaurant finish my money o" 😀 funny right.

Ofada sauce is made with a combination of green peppers and red peppers, then assorted meat, dried fish, a combination of palm oil and red oil (as in this case).
Ofada Sauce Recipe
ingredients
Below is the complete list of ingredients that I used while making the food you are seeing above.
Observe the plate carefully.

I used 3 different kinds of peppers. Green pepper should be – like 60 percent, tatashe or shobo (pls remove the seeds), should be about 30 percent. Then one cup of sliced onions. Grind all together.
Two spoons of ground crayfish
Green Peppers
Red peppers
Tatashe or shobo
2 cups of sliced onions
Assorted meat – 500g
palm oil (half cup)
Vegetable oil (one and half cup)
2 cubes of maggi
Grind the green peppers/red peppers/one cup of sliced onions together.
Don't forget to remove the seeds in the green pepper and tatashe or shobo before grinding. The seeds can completely alter the taste of your ofada sauce.
Ofada sauce or ofada rice sauce is usually made with bleached palm oil. But I have learned that bleached palm oil is not healthy at all. So use a combination of half cup of palm oil and 1.5 cup of vegetable oil. (See the video below)
For me, it is not just about delicious foods, they must be healthy too. Over the years I have spent countless number of hours talking about healthy Nigerian foods and showing people how to make their foods healthy.
I even have a free ebook on that topic – "The Science of Healthy Nigerian Foods." If you are subscribed to my free weekly newsletters you should have access to it. Otherwise, Subscribe Here to get it.
Parboil your assorted meat with 2 cubes of knoor, half cup of sliced onions and a pinch of salt. Add water and allow to cook until it is tender.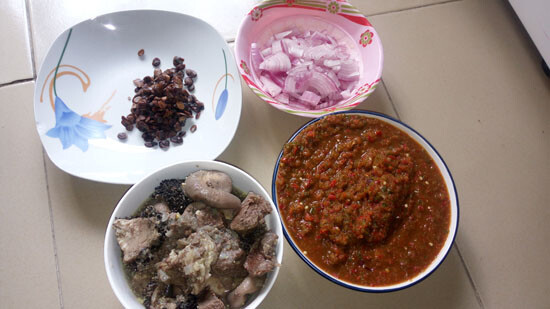 Below are some of the prepared ingredients. Pre-cooked meat in one plate, ground peppers/onions in another plate, then sliced onions in another plate. Then iru (locust beans) sits in the plate at top-left corner.

Set a clean pot on heat; add the oil (half cup of palm oil and one and half cup of vegetable oil). Allow bleaching/ heating for just 2 minutes. Add the remaining sliced onion, the more the merrier. Stir and allow to fry for a minute.
Add the ground pepper combination and allow to fry for the next 10-15 minutes. Remeber to stir occassionally to avoid burning. this is exactly what you get at this point if you use Ofada Sauce Recipe correctly.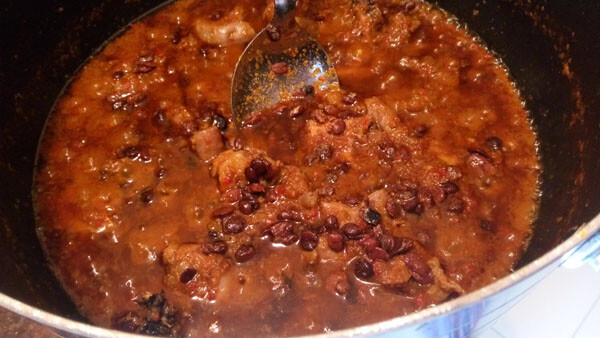 Add the pre-cooked assorted meat; add two spoons of ground crayfish, a cube of maggi (optional) and salt to taste. Also add the locust bean (iru). Stir and allow to simmer for 5 minutes. This is just how to make ofada sauce or stew (Ayamase).

Preparing the ofada rice is the easiest part. Pick out stones and sands from the rice and cook the same way you already know to cook white rice.
RECOMMENDED FOR YOU
Buying Guide to make the best laptop deals
Elitebook X360 Specifications and Full Review
Cheapest Night Plan 2018: MTN 500MB for N25
ACER PREDATOR!!! See the best laptop ever
Buy your gold designers dinner gowns here!!!
100 best Business ideas for Undergraduates in Nigeria
Martha Victor irreplacable free download
I am Promise Ekpo Osaine, a First Class Computer Engineering graduate, SEO Expert, Web designer and Digital Marketer. As a way of giving back, I am passionate about sharing news on Education, Scholarships, Internships, Business, Jobs and Gadgets. Stick with me to get real value
..