An online environmental science degree can prepare you for work in many different fields, and you won't even need a campus education to get it.
With an online degree program, you can study at home and still gain the skills and insights to make you competitive in the job market.
Online Environmental Science Degrees
Environmental science is the study of the environment. It can incorporate many different subjects, including biology, geology,, and chemistry, and it can take you on career paths that range from desk jobs to hands-on fieldwork.
Environmental science is usually considered a "generalist" field. This means that it's a broad area of study with many specialties and sub-specialties. Students can choose to specialize in things like conservation, pollution law, wildlife preservation, natural resources, oceanology, meteorology, and more.
You can obtain an environmental science degree on every level from associate to doctoral. However, many jobs will require a bachelor's degree or higher just to get your foot in the door, and some will ask for special licenses and certifications as well.
Environmental Science Curriculum & Courses
What can you expect to learn as an environmental science student? While your exact schedule will depend on things like your school and your specialization, you can expect to see the following on most course lists:
Introduction to Environmental Science
This is a basic, entry-level class for environmental science that provides a foundation in things like biology, geology, sustainability, global warming,, and wildlife preservation.
Environmental Laws and Policies
These classes might go by different names, but they can cover everything from pollution laws to eco-friendly public outreach programs.
Climatology
This class is essential for most environmental science degrees. It covers the scale and impact of Earth's climate on things like weather patterns, sea levels, natural disasters, and more.
Conservation
A big part of environmentalism is conservation, so you'll probably take multiple classes that cover the protection and preservation of the planet.
Environmental Technology
As an environmental science professional, you might need to use things like Geographic Information Systems (GIS) as well as other tools and technology. These classes can teach you how to operate them and why they're so important.
Remember, however, that this is just a small sampling of the courses that are available to you. You can explore many different classes and career tracks as an environmental science student.
Admissions Requirements
There aren't any special requirements for enrolling in an environmental science program. You'll just need to meet the basic eligibility criteria for incoming students. Depending on your school, this could necessitate any or all of the following:
High school diploma or GED
Transcripts
Letters of recommendation
SAT or ACT scores
Application
Essay
Some schools might also have GPA requirements if you're applying for special programs within the environmental science department. Check with an academic advisor to learn more.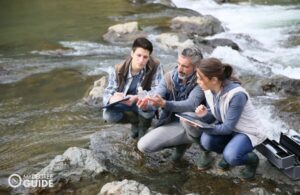 Environmental Science Careers & Salaries
According to the U.S. Bureau of Labor Statistics, environmental scientists and specialists make an average of $73,230 per year. However, there are many other career paths for students who are interested in this field of study, and salaries can vary quite a bit.
| | |
| --- | --- |
| Careers | Annual Median Salary |
| Meteorologists | $99,740 |
| Biochemist or Biophysicist | $94,270 |
| Oceanographer | $93,580 |
| Environmental Engineer | $92,120 |
| Biological Scientist | $85,290 |
| Hydrologist | $84,040 |
| Environmental Scientist or Specialist | $73,230 |
| Zoologist or Wildlife Biologist | $66,350 |
Keep in mind that these salaries are the medians. For example, the full pay scale for an environmental scientist is $42,960 – $129,450 per year, so you could find yourself on either end of the spectrum depending on your age, experience, location, degree level and industry growth.
Environmental Science Concentrations & Specializations
There are two types of environmental science degrees. One is a "general" degree, and the other is a specialized or concentrated degree where you've focused your studies on something specific. Here are a few specializations that you might consider for a career in environmentalism:
Geospatial Technologies is concerned with mapping the Earth through tools and technologies like remote sensing (RS), Geographic Information Systems (GIS), and Global Positioning Systems (GPS).
Sustainability is about preserving the environment and slowing down the depletion of natural resources. Its courses cover topics such as pollution, climate change, ethics, ecology, geology, and environmental law.
Environmental Policy and Economics is the legal side of environmentalism. This is especially important when it comes to monitoring businesses to prevent natural damage, and this degree can help prepare you to enter the fray.
There are other specializations to consider as well. They can concentrate your studies on a specific subject like water management or soil erosion, or they can prepare you for work in a particular industry like healthcare, business, economics, or political science.
READ ALSO: FULLY FUNDED MICHIGAN UNIVERSITY SCHOLARSHIP
Accreditation
If you're looking at colleges, you've probably come across the term "accreditation." In simple terms, it's a review process that schools undergo to prove that they meet certain educational standards. Many grants and scholarships will also require you to attend an accredited school.
There are several forms of accreditation out there, including regional, national, and programmatic. Regional accreditation is the most common, and it's granted by institutions that have divided the U.S. into six different regions. You can recognize them by the locations that they have in their names:
New England Association of Schools and Colleges
North Central Association of Colleges and Schools
Western Association of Schools and Colleges
Northwest Association Of Schools And Colleges
Southern Association of Colleges and Schools
Middle States Association of Colleges and Schools
If you're seeking a science degree, you should also know about programmatic accreditation. It's granted to specific programs and departments within schools.
Environmental science degrees are accredited by both the National Environmental Health Science and Protection Accreditation Council (NEHSPAC) and the Council of Engineering and Scientific Specialty Boards (CESB).
You can learn more about all types of accreditation from the Council for Higher Education Accreditation (CHEA).
Environmental Science Professional Organizations
Professional organizations can help you on your journey to a degree. Many of them offer support to both students and working professionals, so even after you graduate, you can take advantage of their resources.
Here are a few organizations that might interest you as an environmental science major:
There are other organizations that you can look into as well.
Environmental Science Licensing and Certification
Depending on your career goals, a degree might not be enough to set you apart from other job applicants. You might need professional certification as well. Here are just a few acronyms that are common in the field of environmental science:
As you can see, certification won't be easy, but it might bolster your resume in a competitive job market. You can read more about it at the website of the American Academy of Environmental Engineers and Scientists.
Financial Aid
If you can't afford college on your own, financial aid can help.
The first step is filling out the Free Application for Federal Student Aid (FAFSA). There is no cost involved and, depending on your income level, you could qualify for several types of assistance:
Grants are funds that don't have to be paid back, but you'll need to meet certain conditions to get them. For example, the most common grant is the Federal Pell Grant, and its amount is based on both your income level and your estimated family contribution (EFC).
Loans are available to all college students, but if you're considered a "low-income" student, you might qualify for a subsidized loan where the government pays the interest while you're in school.
Work-study programs can connect you with part-time jobs while you're a student. These jobs are usually on campus, so they might not be a possibility for long-distance learners getting an online degree, but they're something to consider if you live close to your school.
Additionally, you can look into things like tuition reimbursement and employee training programs that will pay for a portion of your degree. Another possibility is scholarships.
Environmental Science Scholarships
There are a number of scholarships that you can pursue as an environmental science student:
These are just a few of the scholarships that are available to environmental science students. There are many more, including both need- and merit-based scholarships that can be awarded to students of any major.
Can I Get an Environmental Science Degree Online?
There are many online degree programs for environmental science. They're available at every level of study, including an online associate's degree in environmental science, an online bachelor's in environmental science, and an online master's in environmental science. You can even earn a Ph.D. in Environmental Science through an online program.
Just know that some programs might have a lab or fieldwork component that you'll need to arrange in advance with your school.
What Can You Do With a Degree in Environmental Science?
An environmental science degree can take you down a variety of career paths. The most obvious option is becoming an environmental scientist, but you could also become a biologist, ecologist, meteorologist or horticulturist.
You could also become an engineer, architect, or business manager with an environmental focus.
Is a Degree in Environmental Science Worth it?
Yes, a degree in environmental science is worth it for many students. The Bureau of Labor Statistics is projecting 5% job growth in life, physical, and social science occupations over the next 10 years. Common careers in this field include wildlife biologist, hydrologist, biological scientist, meteorologist, and environmental scientist.
Everyone has their own opinion about the "worth" of different subjects and degrees. However, a career in environmental science can be quite lucrative.
That makes an environmental science degree a profitable investment for the future.
Are Online Environmental Science Degrees the Same Quality as a Campus Program?
The worth of an online degree depends on the school. Do they have a well-developed learning portal for online students? Are the online classes taught by the same professors as the campus-based classes?
Do they use the same textbooks? Are they accredited?
Are Online Degrees Legitimate?
If you're wondering about the legitimacy of an online degree program, look at its accreditation. The college should be regionally or nationally accredited at the bare minimum.
You might also want to look for programmatic accreditation, but that isn't standard in the industry just yet, so don't worry if your program lacks it. It's just a bonus.
How Long Does it Take to Get a Bachelor's Degree in Environmental Science Online?
A bachelor's degree usually takes four years to complete. This is assuming that you're a full-time student earning 12 – 15 credits per semester.
It typically takes around 120 credits to get an environmental science degree.
What Kind of Online Bachelor's in Environmental Science Degree Should You Get?
The best degree for you will depend on factors that only you can judge. For example, here are some questions that you might ask yourself:
What subjects do I like to study?
Which specializations are in-demand in my state?
How much can I afford in tuition?
What degree level do I want?
You might need to do some research on things like salaries and job growth percentages before you can properly answer these questions.
How Much Can You Make With a Degree in Environmental Science?
The top-earning environmental scientists can clear as much as $129,450 per year. Other occupations in specialized fields such as biology and meteorology can net between $85,000 – $95,000 per year (Bureau of Labor Statistics).
How Much Does an Online Environmental Science Bachelor's Degree Cost?
The cost of your environmental science degree will depend on many different factors. For example, while in-state tuition rates range from $200 – $500 per credit, you might have to pay more as an out-of-state student.
If you're getting a four-year degree, that will most likely cost more than a two-year degree.
Universities Offering Environmental Science Online Bachelor's Degree Programs
Methodology: The following school list is in alphabetical order. To be included, a college or university must be regionally accredited and offer degree programs online or in a hybrid format.
The year 1991 marked a beginning for the American Public University System, as this is the year the American Military University and American Public University combined to make one immense private educational establishment.
Students attending APUS can work on any level of degree programs, ranging from professional certificate programs to doctoral degrees.
BS in Environmental Science
APUS is accredited by the Higher Learning Commission.
Originally opening under a different name in 1990, Everglades University has fifteen program options that assist students in gaining a graduate or undergraduate degree. EU is a private academy that has five campus locations across FL. It also has an ample distance-learning program for busy students to have an opportunity for educational advancement.
BS in Environmental Policy and Management
Everglades University is accredited by the Southern Association of Colleges and Schools Commission on Colleges.
As an affordable option for public education, Fort Hays State University began in 1902 and now strives to help traditional and nontraditional students earn a valuable education. Combining field experience with applied applications, FHSU has a significant number of undergrad and graduate programs in diverse disciplines.
High school pupils also have the opportunity to enroll as dual-enrolled students.
BA in Environmental Geosciences
FHSU is regionally accredited by the Higher Learning Commission.
Beginning in 1868 as a sun, land, sea, and space-grant university, Oregon State University offers a world-renowned public education to students wishing to use applied practices and investigative study to earn a postsecondary education.
Offering over 200 undergrad programs and a variety of graduate and Ph.D. programs, OSU is giving students a competitive experience in today's job market.
BS in Environmental Sciences
Oregon State University is accredited by the Northwest Commission on Colleges and Universities.
Since its beginning in the 1960s, Prescott College stands out as a leader in institutions looking to give students more than an education; it seeks to give students a way to solve problems faced by society.
PU lets students assist in designing an education that is blended with collaboration, and hands-on studies to earn a graduate or undergrad degree.
BA in Environmental Studies
BS in Environmental Studies
Prescott College is accredited by The Higher Learning Commission of the North Central Association of Colleges and Schools and the Association for Experiential Education.
The year 1932 signaled the start of a new chapter in education with the advent of Southern New Hampshire University. SNHU is a vast system of educational experiences for students to develop skills needed to be competitive in today's job market.
With hundreds of programs for students seeking associate through doctoral degrees, SNHU has a program to fit all needs.
BS in Environmental Science
Southern New Hampshire University is accredited by the New England Commission of Higher Education, Inc.
Marking the start of a dynamic global research, public facility, the University of Arizona began in 1885. As a leader in medical education and law, UA serves students looking to procure a graduate or undergrad degree in one of the many fields of study offered. UA also has popular doctoral programs for students who are ready for the next level.
BS in Environmental Science
The University of Arizona is accredited by the Higher Learning Commission.
Established in 1853, the University of Florida offers public education programs to traditional and nontraditional students. Those seeking to combine research education with global collaboration to secure an esteemed graduate or undergraduate can find a student-centered program that fits their needs at UF.
Doctoral education is offered to students who wish to go the extra mile in their careers.
BS in Environmental Management
The University of Florida is regionally accredited by the Southern Association of Colleges and Schools.
Opening in 1947, the University of Maryland Global Campus allows working adults to find a degree program that works for their lifestyle. Combining tradition-based learning with nontraditional programs, UMGC offers both on-campus and vital classes to students looking to attain an undergrad or graduate degree.
At UMGC, real work knowledge becomes college credit for a more rounded college experience.
BS in Environmental Management
UMGC is accredited by the Middle States Commission on Higher Education.
At the University of Phoenix, students can take one class at a time so they can balance real-life expectations with expectations in the classroom. Since 1976, this private college has offered a robust online education for students in pursuit of an associate, undergrad, graduate, or doctoral degree to excel in higher education.
BS in Environmental Science
The University of Phoenix is regionally accredited by the Higher Learning Commission.
Getting Your Environmental Science Degree Online
If you have a genuine love for the environment, consider an environmental science degree. Not only can it serve a higher purpose in terms of public health and safety, but it can also lead to high-paying careers in fast-growing fields.
I hope you find this article helpful.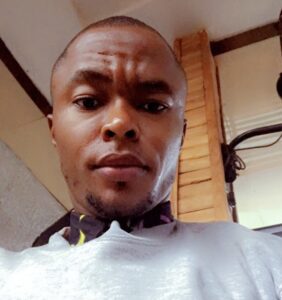 Based in Nigeria's Enugu, I'm a student crafting captivating tales as a writer and igniting sparks as a Motivational Speaker.